By Karen Stretch
---
Countless studies have been published regarding the ever-increasing problem of obesity in the United States. The researchers leading these studies may have come to their conclusions by different means, but the formula to losing weight is always essentially the same: eat right and exercise regularly.
The solution to the battle of the bulge seems simple enough, but the answer to the problem doesn't seem to be getting through to the approximately 97 million overweight Americans whose health is suffering as a result of poor eating habits and lifestyles.
Many people associate being thin with good health. Of course, this is not always the case. It is necessary to stress the vital importance of foods that are rich in vitamins, minerals and fiber, and their relationship to general health and wellness. Diets lacking in these esstenial elements can have devastating long-term effects on the body. Heart disease, diabetes and stroke are just the tip of the iceberg in terms of conditions and diseases attributable, directly or indirectly, to carrying excess weight and poor eating habits.
Living in an age in which advanced technology gives us instant results - from sending an e-mail to taking a picture with a cell phone - it's no wonder that we want our food to be prepared and served just as quickly. Unfortunately, most of the fast food that so many Americans subsist on is low in nutrients and high in fat, calories and carbohydrates all of which have contributed to the obesity epidemic in the United States. To help combat obesity and maintain overall health, it is essential that comprehensive nutritional information be made available to the public regarding the foods they consume regularly.
Recent studies from the Harvard School of Public Health indicate that the risks of diseases such as type 2 diabetes and coronary heart disease, long linked to obesity, are also strongly related to the glycemic index (GI). In 1999, the World Health Organization (WHO) and Food and Agriculture Organization (FAO) recommended that people in industrialized countries base their diets on low-GI foods in order to prevent the most common diseases of affluence, such as coronary heart disease, diabetes and obesity.1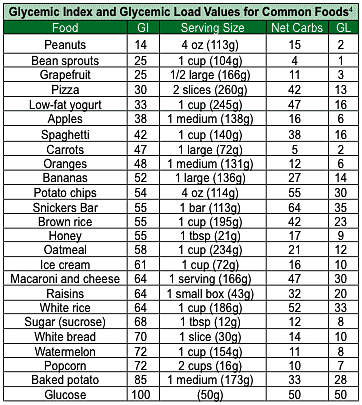 The GI is a ranking of carbohydrates based on their immediate effect on blood glucose (blood sugar) levels. The index compares foods by gram for gram of carbohydrate. Carbohydrates that break down rapidly during digestion have the highest GI. The blood glucose response is fast and high. Carbohydrates that break down slowly and release glucose gradually into the blood stream have low GIs.1 The index is based on glucose, which is one of the fastest carbohydrates available. Glucose is assigned a value of 100; other carbohydrates are assigned a number relative to glucose.2
(Note: The impact a food will have on blood sugar depends on many factors, such as ripeness, cooking time, fiber and fat content, time of day, blood insulin levels, and recent activity.3)
The glycemic load (GL) is a fairly new way to determine the impact of carbohydrate consumption that takes the GI into account, but gives a broader picture than the GI does on its own. A GI value only indicates how rapidly a particular carbohydrate turns into sugar. What it doesn't tell you is how much of that carbohydrate is in a serving of a particular food. It is necessary to know both in order to understand the effect a particular food has on blood sugar. This is where GL comes in. For example, the carbohydrate in watermelon has a high GI, but there isn't very much of it, which gives watermelon a low GL. A GL of 20 or more is high, a GL of 11 to 19 is medium, and a GL of 10 or less is low.4
Foods that have a low GL almost always have a low GI. Foods with an intermediate or high GL range from very low to very high GI.
Low GI foods keep you fuller for longer.
Low GI means a smaller rise in blood glucose levels after meals.
Low GI diets can help you lose weight.
Low GI diets can improve the body's sensitivity to insulin.
High GI foods help refuel carbohydrate stores after exercise.
Low GI can improve diabetes control.
Low GI can prolong physical endurance.
Bear in mind that this is just a brief overview of the glycemic index, and there are potential limitations to its use,4 but here are a few final points to consider: Evidence suggests that consumption of high-GI foods may promote obesity by facilitating greater overall food intake.5 Moreover, according to the authors of a recent study, "sufficient, positive findings have emerged to suggest that the dietary glycemic index is of potential importance in the treatment and prevention of chronic diseases."6 With at least one organization recently labeling obesity, and the health conditions it contributes to, the "black plague of the 21st century,"7 it's clear that health care practitioners and their patients must work cooperatively to develop nutritional, exercise and lifestyle programs that will ensure future health and wellness.
---
References
Ludwig DS, Majzoub JA, Al-Zahrani A, et al. High glycemic index foods, overeating, and obesity. Pediatrics March 1999 (electronic version);103(3):e26.
Jenkins DJ, Kendall CW, Augustin LS, et al. Glycemic index: overview of implications in health and disease. American Journal of Clinical Nutrition July 2002;76(1):266S-273S.
Obesitythe black plague on 21st century America? American Health Care Partnership Newsletter, second quarter, 2003;3(2).
---
Karen Stretch is the assistant editor of MPAmedia. She can be contacted at 714-230-3150 or .